One of the first details guests and visitors will undoubtedly notice about your home is its front door, after all, as they walk up your path it's what they are looking at the most because they are about to ring your door bell, or knock so all their focus will be right on it! Make your front door one which really tells a positive story, make it one to stand out from the crowd and to reflect the type of home you live in as well as the type person that you are. Front doors don't need to be boring, far from it – today there are a multitude of different colours and designs to enhance and add theatre to your home. At Premier Door Handles we'd like to help you choose a beautiful door which works perfectly for your front entrance.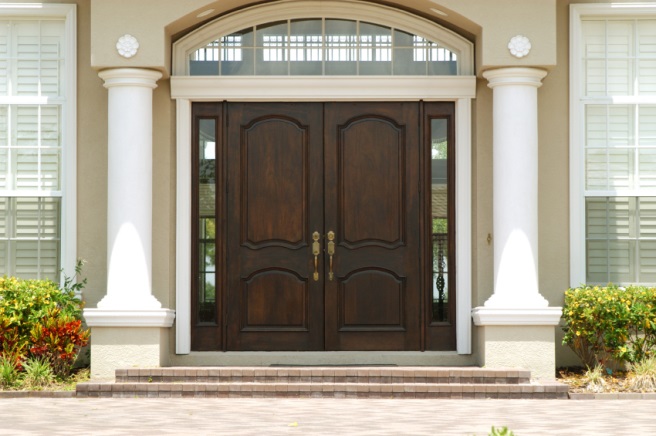 As well as looking fabulous, your front door has plenty of jobs that it must do. Firstly it needs to keep your home suitably protected from intruders so look for strength and practicality. It also needs to withstand all weathers and in the UK we all know what that's like! Rain, sleet, snow, hail and frost are just some of the conditions your front door must be able to cope with as well as being resistant to fading from the sunshine - when we get it.
So bearing all of the above in mind you need to weigh up the different materials available and what their advantages are. As well as the materials you need to think about added security options meaning locking systems (alarms can be fitted separately) and of course, the perfect finishing touches such as door handles, letterboxes, spy holes, door numbers and other door furniture. Once you've made your door material decision you are well on your way to owning a stylishly smart front door which should last you many years and be the envy of all who see it.
Front Door Materials
In the main, there are three different materials to choose from - wood, steel and fibreglass. At Premier Door Handles we are passionate about helping you to achieve the look you want - so we've taken the hard work away from you with our short guide to the different materials to help you make your final selection:
Wood
Wood is probably the most commonly used type of door across homes in the UK - it is traditional, classic and timeless plus it is endlessly versatile and will always add warmth and beauty to your entrance area. Wood looks expensive (but it doesn't have to be pricey), and can be perceived as a luxury material as it has good weight. What's more, solid wood is notoriously strong and robust. Wood can become expensive when it is bespoke so if you don't want to break the bank, look for ready-made stock wooden doors - but make sure the one you choose is well insulated. Remember wood does expand and contact depending on the weather and with the passage of time, so remember to protect the surface adequately or you might find your wooden door warps. You can always dress up your wooden door and make it unique with your own set of door furniture from Premier Door Handles.
Steel
For the ultimate in home security you can't beat a solid steel or aluminium door - just about the strongest material you will find for a front door, it's harder wearing and tougher than wood and will never deteriorate. If it does get damaged (which is rare) it can be repaired too, as there are various kits available to touch up areas with scratches or blemishes. Another huge bonus that comes with ordering a steel front door is pricing - you can often find steel doors cheaper than wood and fibreglass. And don't think that steel only comes in silver or matt silver – these days most metal doors can be stained to almost any colour so can look incredibly smart and sleek. Probably most suited to a modern home with clean lines, steel is a practical, wise - and security-conscious - choice.
Fibreglass
If you are looking for something in between steel and wood, you might consider opting for fibreglass, because these types of doors look incredibly chic as they emulate wood and can be stained to resemble any type of wood you like. As with steel, fibreglass will generally not deteriorate, meaning that you can expect your fibreglass front door to last in excess of 25 years and they are typically maintenance free. You don't need to worry about intruders either because fibreglass doors are lightweight but exceptionally strong, practically as robust as steel. Fibreglass offers excellent insulation too so you'll find them a very energy-efficient front door style for your home - particularly noticeable if you are upgrading from a door with a lot of single-pane glass. Because of it's flexibility, fibreglass doors are suitable for every type of house, from modern to traditional and even those with classical styling.
The Detail
Once you've chosen your door - whether it's grand rich walnut wood or minimal matt fibreglass - all that remains is to select the accessories to really make it pop out. This is where we can help. At Premier Door Handles we have gathered together the very best door furniture from the UK's leading manufacturers, offering a huge range, free expert advice, and the best prices online - guaranteed.
When choosing door furniture there are a couple of things to consider. If you're looking for minimal upkeep then you might want to think about stainless steel, because it needs virtually no maintenance apart from an occasional wipe with a soft cloth. Antique brass needs to be maintained from time to time and polished up using a good quality brass polish (we recommend something like Brasso) but it's worth the extra effort because it looks stunning and as a modern classic will never date. For Gothic lovers, black ironmongery needs little maintenance as it is matt, so a gentle wash every now and then should keep it looking pristine for years to come.
There's plenty of choice in finishes to suit your personality and the style of your home, from black brass, steel and chrome as well as polished options too. So if you are thinking of something bright and glossy then you might opt for polished antique brass, brightly polished stainless steel or chrome. Browse through our award-winning Carlisle Brass range of door hardware for timeless appeal and modern eye-catching styles. If you prefer something a little more understated you should definitely check out our Eurospec range - brushed stainless steel or chrome is a very popular choice right now. For real drama on a grand scale, the Ludlow Foundries collection in antique black or pewter will be a distinctive and elegant selection. Whether you own a rustic style cottage, grand imposing mansion or charismatic loft apartment there really is something for everyone here at Premier Door Handles.
For more information on the right finishing touches for your front door please give us a call today - we're always happy to help.